August 24, 2021
Stanford/SFUSD Partnership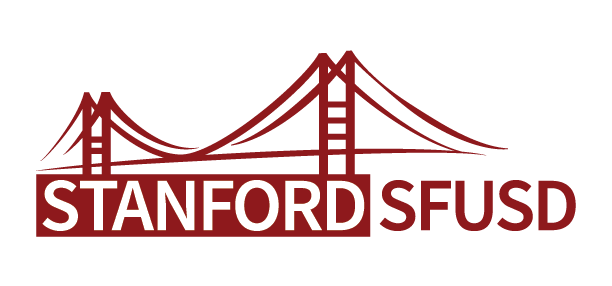 Welcome to the Stanford/SFUSD Partnership!
Stanford University and San Francisco Unified School District partnership unites research and practice to shape educational practices and policies that maximize educational experiences for all students. The Partnership matches researchers from Stanford University's Graduate School of Education with SFUSD district leaders to address challenges and support improvements. Together, they create research projects that directly inform the school district's work to transform teaching and learning for each and every child in the 21st century.
Our Mission and Vision


How We Work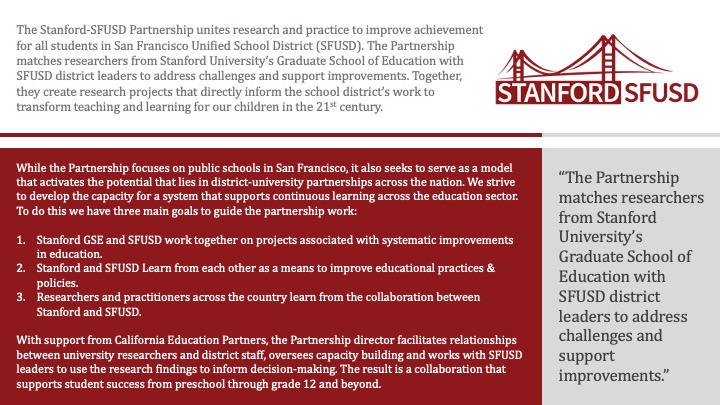 Learn More About Us – Click on these articles
What are the conditions under which research-practice partnerships succeed? by Caitlin C. Farrell, Laura Wentworth, and Michelle Nayfack in Phi Delta Kappan. March 22, 2021.
A university and district partnership closes the research-to-classroom gap, by Laura Wentworth, Richard Carranza, and Deborah Stipek in Phi Delta Kappan. May 1, 2016.
The Stanford-SFUSD Partnership: Development of Data-Sharing Structures and Processes, by Moonhawk Kim, Jim Shen, Laura Wentworth, Norma Ming, Michelle Reininger, and Eric Bettinger, in Handbook on Using Administrative Data for Research and Evidence-based Policy. 2020.
Contact Us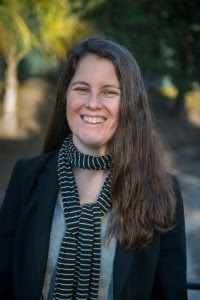 Laura Wentworth
Director of Research Practice Partnerships
California Education Partners
laura@caedpartners.org
@StanfordSFUSD on Twitter
Search Resources
Search by Keyword
Search by Category
Search by School District
Want to learn more about what we do?
Sign up for our mailing list
Featured