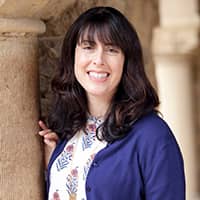 Michelle Nayfack serves as the Associate Director of Research Practice Partnerships where she leads the Stanford-Sequoia K-12 Research Collaborative. This Collaborative is a partnership between Stanford University and nine school districts in San Mateo County. In her role, she supports researchers from Stanford's Graduate School of Education and practitioners across all nine districts to conduct research that will inform policies and practices within the districts and contribute to generalizable research in education.
Michelle has held a variety of education policy research positions including at Stanford's Policy Analysis for California Education (PACE) and the American Institutes for Research (AIR). Michelle began her career as a high school English teacher in Los Angeles.
Michelle earned a Doctorate in Urban Education Policy from the University of Southern California. Her expertise is in organizational change, school reform and policy and program implementation.
As a former school board trustee, she understands how hard it is for district leaders to make decisions without the benefit of rigorous research evidence. She continues to be inspired by the impact that research practice partnerships can have on some of the most intractable challenges facing public school districts.
Want to learn more about what we do?
Sign up for our mailing list
Featured