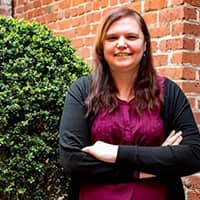 Iva serves as the Operations Administrative Assistant where she supports the Operations and Human Resources department. Her duties include office management, internal meeting coordination, and employee recruitment and orientation support. She also serves as the onsite Safety Coordinator for the San Francisco Office.
Prior to joining Ed Partners, Iva was an English as a Second Language Teacher in Taiwan, Russia & The US. She also actively volunteers as a Film Selection Juror for the United Nations Association Film Festival, a nonprofit documentary film festival dealing with human rights issues. She also worked as a Manager in the office solutions industry, an Administrative Assistant in the non-profit sector and participated in several film projects.
Iva holds a Bachelor of Arts degree in Cinema, specializing in film production and screenwriting from San Francisco State University, as well as an Advanced Certificate in Teaching English to Speakers of Other Languages (TESOL).
Iva's dedication to education comes from her years as an English as a Second Language Teacher and her desire to see positive changes in students' lives.
Want to learn more about what we do?
Sign up for our mailing list
Featured