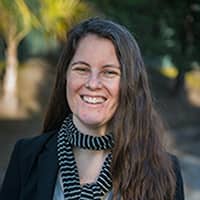 Laura serves as the Director of the Research Practice Partnership (RPP) program that helps school districts and universities across California work together in partnerships that produce and use research to improve policies, practices and student outcomes, with a focus on supporting students historically underserved by the public school system.
Under Laura's leadership, Ed Partners supports through leadership and coaching the Stanford-San Francisco Unified School District Partnership, the Stanford-Sequoia K-12 Research Collaborative, and the Oakland Unified School District and UC Berkeley Partnership. Laura also helped Stanford Graduate School of Education launch the first of its kind Certificate in Partnership Research for doctoral students wanting training in partnership research methods.
Laura earned a Masters in curriculum and instruction from the University of Colorado, a Masters in the social sciences of education and PhD in Administration and Policy Analysis from Stanford University.
At the heart of Laura's work is the humility, diplomacy, and persistence needed to unite practitioners and researchers in efforts to improve outcomes for students across California, with an emphasis on African American, Latinx, and low income students.
Want to learn more about what we do?
Sign up for our mailing list
Featured